*This post may contain affiliated links, this means I may receive a small commission if you make a purchase through a link.
Cult brand Morphe has recently launched a whole new range called Morphe 2. Developed with TikTok sisters Charli and Dixie D'Amelio, the range contains a line up of foundation, eyeshadow, and lip & cheek products. All promoted as being light and multipurpose.
Aimed at Generation Z – which is definitely not me! Morphe is focusing on the less is more, barely-there school of makeup. A change from the usual high glam, Instagram worthy looks, promoted by the likes of Jeffree Starr and Jaclyn Hill.
The Products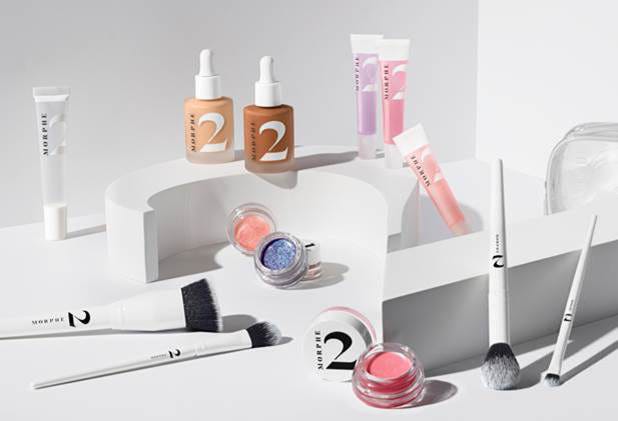 The range contains a superlight foundation – Hint Hint Skin Tint, Jelly Eye Shimmer, Gloss Pop Face and Eye Gloss, Wondertint Cheek and Lip Mousse and a Glassified Lip Oil. As well as a set of brushes- Sweep Life Brush set. All in minimal, modern packaging these products do appear to be a world away from the usual Morphe offerings. Ranging in price from £10 to £24 they are also more affordable.
So how do they measure up to Morphe's main range? I've tested Hint Hint Skin Tint and Wondertint Cheek and Lip Tint to find out.
Hint Hint Skin Tint
Skin Tint is a hydrating fluid, which claims to melt into the skin providing sheer and buildable, coverage. With a radiant finish the foundation, or skin tint, aims to blur imperfections, leaving you with a fresh-faced look. So definitely aimed towards younger people looking for lighter coverage!
Skin Tint comes in 20 shades, providing a reasonable chance of getting a shade to match your skin tone. Ranging from Level 1 Light, through to Level 6 shades for richer or deeper skin tones. The closest match to my skin was Level 1, Hint of Creme, which is described as fair with golden undertones.
Morphe says the Skin Tint can be used in 3 ways:
Super-Sheer – mixed with a moisturiser to provide a very sheer hint of colour.
Sheer – 1 or 2 drops applied with a foundation brush for light coverage.
Medium – 1 drop applied with a brush, followed another 2 – 3 drops to build to medium coverage.
Now, as I'll grudgingly admit, I'm no longer in the first flush of youth, being in my mid-30s! So I knew from the start sheer -sheer was never going to be an option for me. But I was intrigued by the level of coverage the second option, sheer, would give me. On a good day, I'm relatively happy with minimal foundation, and I was definitely quite pleasantly surprised.
The coverage is undoubtedly sheer, but it does smooth imperfections well. And the light watery consistency means it sits well over those pesky fine lines. As it's so lightweight it genuinely feels as if you have no makeup on and lasts relatively well, only starting to go patchy after the 6+ hour mark. Not exactly hydrating, it also doesn't feel drying at all, more just as if you have nothing on your skin. Definitely not unpleasant! How would the blush/lip stain compare?
Wondertint Cheek and Lip Mousse
Described as multi-tasking, the Wondertint Cheek and Lip Mousse comes in a range of 4 shades. Soft pink, soft peach, blushing rose and vintage berry; and gives a buildable wash of colour to your cheeks or lips. I chose the soft pink shade – Wish, as I'm always a fan of a pink flush on my cheeks!
Texture-wise it is indeed a mousse, and with that sort of fluffy, whipped consistency application definitely takes a bit of getting used to! I found it difficult to apply with a brush, preferring to dab a small amount on to my cheeks and then blend in with my finger. The colour is very pretty and very buildable. And the smallest amount will provide a sheer flush that you can build up into a brighter shade. It blends out really well and much like the skin tint feels very light on your skin. I do prefer to add it over the top of powder blush to give more depth of colour, but it is still perfectly pretty and wearable on its own!
Final Thoughts
Overall I like both the Hint Hint Skin Tint and Wondertint Cheek and Lip Mousse. I think its fair to say that many of those from a younger generation are looking for a less is more makeup look, so I can see why the Morphe 2 range is being aimed at a more youthful audience. But probably more importantly, it's also an affordable range, with a reasonable amount of shades, that seem to perform just as they claim to. I'm yet to try the eye shadows or lip glosses but I definitely wouldn't be averse to adding a few more Morphe 2 products to my make up bag!
The Morphe 2 range is available from Feel Unique now.